My Take on Microfiber Towels for Rosacea
If you have rosacea, you already know that a rough or scratchy towel or washcloth worsens the redness you experience. In addition to using a gentle face wash that doesn't have harsh chemicals, you need to consider what you dry your face with.
It's my habit to dry my face with the same towel I wrap my hair in. For that reason, I've discovered the joy in microfiber towels for both hair drying and drying my rosacea-afflicted skin. Not only do they dry my hair well, they also are incredibly gentle on facial skin.
When shopping for microfiber towels for rosacea, look for towels that are machine washable. You want them to dry fast between uses. What you don't want are very thick towels that take ages to dry. Mold and mildew may irritate your skin. I prefer to wash my face towel every couple of days. Here are six brands I recommend.
The Budget Towel - AmazonBasics Microfiber Cleaning Cloth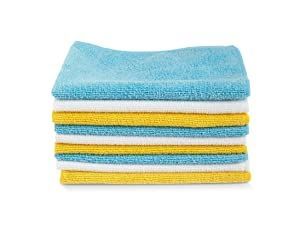 If you need a budget towel that's easy to use and toss in the wash, AmazonBasics is ideal. You get two dozen soft towels for very little money. They're not big enough to wrap your hair in, but they are great for patting your face dry.
The Ideal Hair Towel - DevaCurl Devatowel Anti-Frizz Microfiber Towel
This is a great towel, though it is a little more expensive. If you have a lot of hair, it may not be big enough at 20 by 39 inches. For my shoulder length hair, it's perfect. The Devatowel dries quickly, so in the summer, you don't get that musty, wet dog smell that has you rushing to the laundry room almost daily. The towel is very soft, gentle on rosacea skin, and one of my favorites for drying my thick, wavy hair and drying my face.
The Face Cloth With Antibacterial Protection - Hopeshine Antibacterial Microfiber Facial Cloths
With these, you get a six-pack of antibacterial washcloths, which is handy when you don't do a lot of laundry each week. The microfiber washcloths are soft and gentle, which makes them perfect for using when washing your face or drying your sensitive rosacea areas. The only downfall I've found is that they shed some lint at first. If you use these to wash or dry your face, wash them in a gentle laundry detergent prior to use. Other than the lint issue, I really do like these microfiber facial cloths .
The Face Cloth That Contains No Chemicals - 24K Organic Makeup Remover Cloth
While the 24K Organic Makeup Remover Cloths are not big, they do work well. Add water for quick cleaning at the end of the day. The microfiber is very soft and designed for sensitive skin and rosacea. They are also chemical-free towels that can withstand up to 1,000 trips through the washing machine without breaking down.
The Towel Designed for Easy Storage - Biospired Trek Pack Quick Drying Microfiber Camp Towel
While the Biospired Trek towel is meant for camping, it's a great face towel for rosacea. The towel dries quickly after use and is soft and gentle on irritated skin. It has a loop for hanging and a pouch if you want to take it with you on your trips. It's large and perfect for drying your face and then wrapping up your hair while it dries. It's my favorite towel if I plan to skip drying my hair with a hairdryer.
My Favorite Microfiber Face Cloth for Rosacea - Plush MojaFiber Microfiber Face Cloth
Plush MojaFiber face cloths come in a pack of three. For the price, this towel is amazing. It's soft, yet it does exfoliate dead cells well, all without irritating my rosacea. They are a salon-quality face towel, and after multiple machine washings and regular use, they're not showing any signs of wear. I use one in the shower with my favorite rosacea facial wash - SebaMed is currently my preferred brand - and one for drying.
You may have to play around with different brands to find the rosacea facial care products that work best for your skin. I love CeraVe in the coldest days of winter, but as it warms up, my skin is too oily. I have to switch to Sebamed. I have friends and family members with rosacea who can't use either product and prefer Clinique Redness. If you can get a trial size or a face towel with a money-back guarantee, use those offers to your advantage!